Christmas in July: Sydney Lockdown Life
September 29, 2021
Here we are in Sydney in week 13 of lockdown, with at least 3 weeks to go before restrictions begin to ease. I am not going to lie it has been a bit of a roller coaster for everyone.
It is funny how when you are told you can't do something that you then really really want to do it! Going to the beach always seems like a great idea, then there is the sand, riding home in the car in wet cozzies (swimmers) with sunburn. But right now, I can't think of anything more that I would love to do than spending a day at the beach – sand, wet cozzies and all! But with our restrictions that isn't possible.
This lockdown has provided my family with 13 weeks of 'quality time together! My husband also works from home, we have two kids, our son is in high school, and our daughter is studying at university – both have been attending classes online. They cannot wait to hang out with their friends soon – they have definitely missed the social interactions with their peers.
Groundhog Day/boredom kicks in pretty early in the peace in a lockdown. So, I have tried to be a little creative to break up the repetition of daily life.
One week in July, I told the family to keep Saturday night free as I had something planned. Well, let's face it, every night in lockdown everyone is 'free' of plans. I told them we were going to have Christmas in July!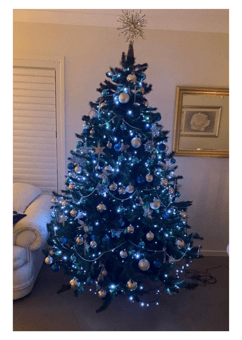 Now I firmly believe if you are going to do a theme night you really need to commit! So up went the Christmas tree, lights, and baubles and I placed Christmas decorations around the house. The table was decorated with fairy lights and all the usual Christmas 'things' - I even had some left-over bonbons and serviettes from Christmas last year!
Christmas in Sydney is in summer – it is usually hot. But that never stops us from having a hot roast lunch with glazed ham, roast pork, and turkey – with a side of air conditioning. Christmas in July however meant I could cook up a storm without the need for a mid-cook dip in the pool.
For Christmas in July, we had all our usual Christmas trimmings on the plate – everyone enjoyed it! There was of course leftovers - I mean is it even Christmas if there are no leftovers?
We had Christmas carols playing, a Christmas fireplace on the TV (courtesy of Netflix) and Christmas presents under the tree – that I had to source from the only retailer that is open during lockdown – the supermarket.
While not the most exciting gift ever, each gift was wrapped in Christmas paper, definitely a case of 'the thought that counts' gift - but who doesn't like their favourite lollies (candy), chips (potato crisps), biscuits (cookies) and magazines!
There was a pause on the Christmas festivities during the night as the Olympics were on and we were wanting to watch the swimming finals – lots of Aussies do love swimming (well sport in general I guess!).
We played games after dinner and the evening created some laughs and memories – I am not going to lie there may have been a couple of teenager eye rolls due to my level of commitment to the theme – but they did say they had a fabulous night.
I must admit that packing up Christmas decorations in July is equally as 'exciting' as the usual post-Christmas packing away of the decorations. Maybe it is just in my family, but I do find that my family magically disappears at Christmas decoration pack-up time - perhaps it is all part of the 'magic' of Christmas!
The Olympics provided some much-needed escape from lockdown normality, there was always something to watch.
There was one event from this year's games that I hope will be remembered. It was the final of the decathlon. One of the Australian competitors Dubler knew he wasn't in medal contention, so he fell back to encourage the other Australian competitor Moloney on his final leg. He was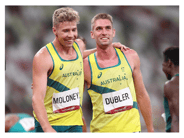 running beside him shouting encouragement to help him get across the line - which he did, and he came away with a bronze medal. The phrase 'doing a 'Dubler'' was born.
I think there have been lots of examples in my local community of friends and neighbours doing their own version of a 'Dubler' by looking out for each other and providing random acts of kindness during this lockdown. We have experienced this ourselves with homemade treats being dropped on our doorstep and we have also done some baking and deliveries of our own. A little random act of kindness never hurt anyone!
Perenso is that kind of workplace where we are looking out for each other. We have a challenge thrown at us like COVID, we all get in and work together to find a solution to help our customers – in particular, to sell better. They say pressure makes diamonds – well I personally think all my colleagues sparkle every day.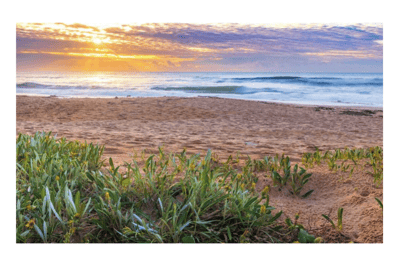 Now my plan for this weekend is to find our cozzies, double pluggers (which we recently had to explain to our US team are what they refer to as flip flops (we also call them thongs)) and towels so that we are ready for when restrictions ease and we can jump in the car and head for the beach – and enjoy every single moment of it – even the sand and the wet cozzies! I don't think there will be an eye roll in sight!
-Melissa Wolsey, Chief of Staff
Want to receive updates about our blog posts?
Thanks for visiting our blog! We'd love to keep in touch. Subscribe now for updates.