Employee Spotlight: Ryan Kuan
September 05, 2023
Meet Ryan - The king of toddler giggles and a veteran member of the Perenso team who colleagues describe as an absolute superstar!
Hometown: Sydney, Australia
What is your role at Perenso and what does it entail: In my role as a Software Engineer, I tackle a wide range of responsibilities. My primary focus is on developing the UWP (Universal Windows Platform) application for Field Sales, but you can also find me involved in integrations and reporting work for our Trade Show platform.
How long have you been at Perenso: I may look ridiculously young, but I'm in my 17th year!
What is your favorite thing about working at Perenso: Opportunities to excel in your role are abundant here. If you have ideas or suggestions to enhance your tasks or work environment, then the company is genuinely supportive in helping you bring them to realization. Your success is a shared goal, and your initiatives are encouraged and welcomed.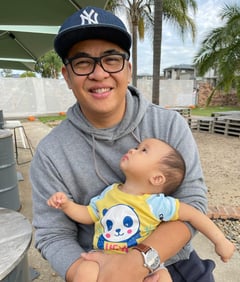 How did you end up at Perenso: I was on a 6-month sabbatical travelling the world and looking for trouble. It couldn't last forever so, to make my parents happy, I set out to find my next meaningful career. It was with Perenso that I found a great opportunity and to this day, I still feel very fortunate to be part of the team.
The most exciting thing you're working on: Not all our development is client-facing! I enjoy working on a lot of our internal tools that help other members of the team to deliver effective solutions.
What is something you are really good at: I'm great at making my one-year-old laugh. To him, I'm the funniest guy in the world.
What is the strangest food combination that you enjoy: Hear me out… cheese and sweet
corn ice cream. This is actually a popular treat from my home country of the Philippines where you can find an assortment of weird and wonderful ice cream flavors. If you get the chance, you must also try mango and suman or green mango with bagoong. On the other hand, it's probably best to avoid flavors like Tilapia (a freshwater fish) - that's just weird.
Where is the coolest place you've traveled: The Pantheon in Rome was pretty awe-inspiring. It is a very humbling experience to stand in something so grand. The dome was built nearly 2000 years ago from stone, brick, and concrete and is truly a testament to human achievement.
What is your favorite TV show to binge-watch: Black Mirror on Netflix is a great show to watch. It's a stark reminder that the progress of technology without ethics can lead to a dystopian future. The show urges us to tread carefully when embracing new technology and to navigate it with wisdom and responsibility, perhaps something all software developers can relate to.
Learn more about the field sales platform that Ryan is continuously working to improve:
Thanks for visiting our blog! We'd love to keep in touch. Subscribe now for updates.