Employee Spotlight: Kirstin Wolgast
October 09, 2023
Meet Kirstin - A book worm and food enthusiast who is a hard-working and enthusiastic member of the Perenso team!
Hometown: Bowling Green, Kentucky
What is your role at Perenso and what does it entail? I am an account manager. I help my clients prepare their trade shows by managing the features and data that they use and supporting them if issues arise.
How long have you been at Perenso? I started working with Perenso as an Event Tech in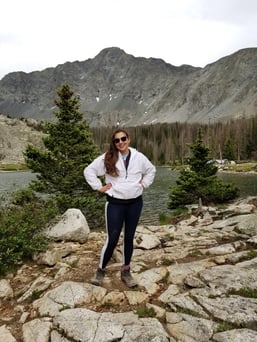 September 2022 and started working full-time as an Account Manager in November 2022.
What is your favorite thing about working at Perenso? I love working with such a great group of people. Everyone is so kind and helpful and I feel so lucky to be a part of such a great team.
How did you end up at Perenso? I started working with Perenso as an Event Tech because I thought it was a great opportunity to travel and see more of the country. When an Account Manager position opened up, I knew I had to apply!
The most exciting thing you're working on: We have new products coming out all the time. It's so exciting to learn more about them and see how they best fit for my clients so we can improve their show and the experiences of their customers.
What was your first job? I worked as a waitress and cashier at a Mexican restaurant. I loved working there because I got free Mexican food every day.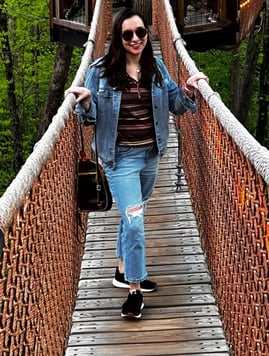 How do you like to spend your time when you're not working? I enjoy reading, knitting, and crocheting. On the weekends I like to try new restaurants and sports with my friends.
Do you have any pets: I have two cats, Milly and Milo. They are siblings and I have had them since they were kittens.
Are you a bookworm? What is your favorite book? I love finding a great book and being immersed in a different universe. I read Moloka'i a couple of years ago and I still can't stop thinking about it. This is a beautiful book about a young girl sent to exile on a remote island in Hawaii. This book is about found family and finding beauty and triumph in difficult situations. I recommend this book to everyone.
What's your favorite restaurant? Skyline Chili. Cincinnati chili is so unique, and I love Greek-American fusion.
Are you interested in finding out more about the great team Kirstin feels so lucky to be a part of?
Thanks for visiting our blog! We'd love to keep in touch. Subscribe now for updates.