Employee Spotlight: Meet Aaron Connelly
October 19, 2021
Meet Aaron Connelly, one of the US dev team members and master of Dad jokes!Hometown: Granby, CT.
Your role/what it entails: I am a Software Engineer and self-appointed curveball thrower. I have the challenging and rewarding job of taking amazing designs from our UI/UX designer, code developed by our back-end developers, and combining it into a useful and functional product. When you click a button and it actually does something, you have me to thank.
Exciting thing you're working on right now: I am currently working on a top-secret platform that will elevate the trade show game for all our clients. Since this project is not yet being advertised, I will tell you about a platform I developed called the EventSpace. The EventSpace is a visual lobby editor that was developed so our clients and success team members can manage and create 3D lobbies for their trade shows.
How did you end up at Perenso? I was a 15-year freelance veteran when a designer put me in touch with Darren (our CTO) to help him build some cool lobbies for the Perenso Cloud Show virtual trade show. Once our initial job was complete, he hired me to create a chat system for the same virtual trade show which includes not only a text chat but audio/video calls, screen sharing, and file sharing directly from the Cloud Show platform. It allowed our vendors, attendees, and show admins to communicate on a whole other level. One passing meeting he made a comment that it would be easier if I worked for Perenso - I agreed, and since then I have been a proud orange-wearing Perenso member! I left 15 years of freelance work and didn't think twice about joining this amazing team.
What is your favorite thing about Perenso? Hands down the people. A job is just that, a job. At Perenso though, it's family. When you have something other than a simple task to accomplish it brings meaning and purpose into your life and work. The people at Perenso are worth going into battle for. When you have a group of people like that, the products and solutions you come up with are on a whole other level, you are no longer clocking in and out, but you are working with passion and purpose.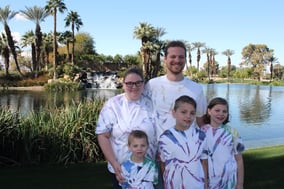 Favorite things to do when not working: Making homemade meals with the kids (homemade pizza dough, taco shells, and lots of baking!), hiking, playing basketball, growing plants in my garden (which has now taken up half the yard), jogging with my sons (11 and 7), watching AFV (America's Funniest Videos for my Aussie friends) with my daughter (13), playing 'Azul' with my wife and helping out at my church.
What would you choose for a Superpower?
Flight –
If I was ever being chased by a bear I could simply fly away.
If I had car troubles, no worries – just fly.
If a frisbee got caught up on the roof, I would be a …. Superhero and get it.
If I was playing basketball… it would not at all be cheating if I "flew" a little to dunk the ball.
I could finally tell the ultimate Dad joke… Hover slightly over someone's head and say… I'm just on a different level. 😉
If you could have an unlimited supply of something, what would it be? Time – It is a two-edged sword. Unlimited time would mean that I would have enough time to follow passions, spend time with family and be there for anyone who needed it. However, if time became unlimited, we would lose the very value it gives. No longer does a day with the family mean much as it would be available at any time and there would be nothing to judge its value upon. My new answer is Coffee… Coffee is the fuel of a tired and ambitious developer. 😊
Take a look at all of the work Aaron has done to improve Perenso's Cloud Show experience:
Thanks for visiting our blog! We'd love to keep in touch. Subscribe now for updates.