Employee Spotlight: Melissa Wolsey
April 25, 2022
Meet Mel - Perenso's kind and caring, behind-the-scenes organizer!
What is your hometown? Sydney, Australia
What is your role at Perenso and what does it entail? Chief of Staff. My role involves a lot of different hats. Primarily my role is working closely with our CEO to ensure that our company's strategic direction is aligned across all areas of the business.
How long have you been at Perenso? Four years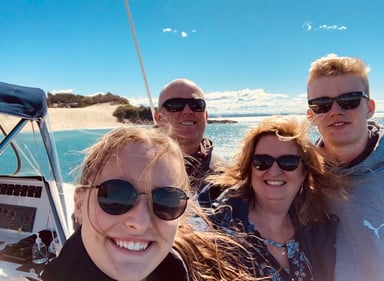 How did you end up at Perenso? I had worked with our CEO for many years in a previous role, there was an opportunity at Perenso and here we are!
What is the most exciting thing you are working on right now? One of my hats involves recruitment. I am currently in the process of expanding our team so lots of exciting conversations are taking place right now! Our team is absolutely fabulous and having a like-minded group working together creates amazing results. I feel it is very rare that you can say that you genuinely like everyone that you work with - and I do.
What has been your proudest moment working at Perenso? Oh, there are lots - one of my proudest moments comes from our team. With the changing landscape over the last couple of years, we had to adapt to ensure that our customers could continue to service their trade show business. During a time that was filled with daily changes in the world around us, the team came together to bring Cloud Show, the virtual trade show platform, to life in a short space of time. We knew our customers needed this platform and our team delivered. It was our team's core value, to never give up, their ability to adapt and overcome to provide our customers with a solution that we promised, and delivered.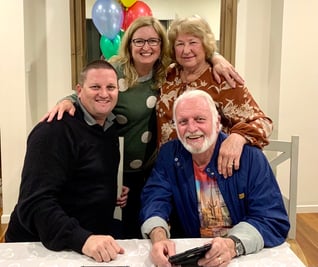 What is your favorite thing about working at Perenso? It is the people! They are fabulous! We have fun and there is laughter – the translations of Aussie slang are always fun! I enjoy getting together with the whole team once a week via Zoom. To make things a little more interesting we have also had virtual coffee catch-ups, we had bring your baby to the meeting (we had lots of babies there at one point), and we also had bring your pet to the coffee catch up. Anything is possible in a virtual world!
What are 3 words best used to describe you? Gosh, can we go back to talking about the awesome team? I don't take myself too seriously, loyal and I have trouble limiting myself to three words!
What do you most enjoy doing when you're not working? I definitely value more than ever spending time with my gorgeous family and friends – mostly I just enjoy having a good laugh! Sunsets on Sydney Harbour or visiting nearby waterfalls.
What is your favorite place in the world? While I have traveled overseas, as Dorothy says, 'there is no place like home.' I do love Port Macquarie – it is definitely my happy place. It is on the mid-north coast of New South Wales, Australia. The beaches are fabulous, the sea air, did I mention the beaches! I grew up camping in Port every year with my family from when I was very young. I once tried to save a beached whale on one of the beaches there with lots of the locals. Port Macquarie is home to quite a lot of koalas. You can be sitting down at a campsite and they will just walk straight past you. They do like to get into swimming pools so you have to watch for that. They are gorgeous – although not so gorgeous at night time if they are in a tree nearby! They can be very noisy!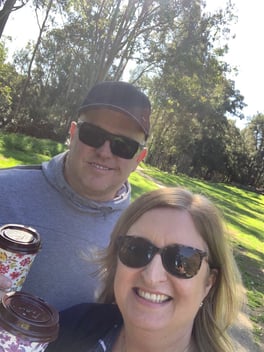 f you could only have one food for the rest of your life, what would it be, and why? I think it would be Shakshouka with chorizo. My favourite thing to have for breakfast with sourdough – although I do think it can be eaten any time of the day! It is delicious!
What are your favorite bands and/or concert experiences? Hearing live music is food for the soul! I recently saw Crowded House and have tickets to see Ed Sheeran next year. I would have to say that my favourite band is the one my dad was in when I was a child. He was the lead guitarist and singer of the band. I think hearing my dad sing and play the guitar even now is always the most special thing to me. He even sang at my wedding, along with another special guest!
If you could meet anyone in the world, who would it be, and why? Well, actually I have lots of people that I know really well but have never met in person who live in the US! I would choose to meet one of them in person out of anyone else in the world. Because they are all awesome!
Companies in Australia are benefitting from our field sales software - learn how your field sales team can boost efficiency and maximize sales with Perenso's help.
Thanks for visiting our blog! We'd love to keep in touch. Subscribe now for updates.